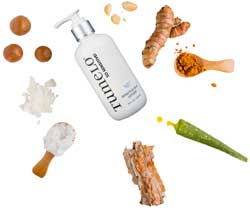 Tumelo So Sensitive! is exactly what your parched, itchy, sensitive skin needs. Our nutrient-rich exclusive blend of soothing, therapeutic nut oils along with pure plant extracts work together to calm and restore dry, red, cracked, burning, chapped, wind-burned, itchy, flaking, insanely distressed skin.
Antioxidant and essential fatty acid-rich Macadamia nut oil along with Coconut oil, rich in Lauric, Caprylic and Ferulic acid, combine with pure plant extracts of Pine Bark and Turmeric Root to help repair the skin's moisture barrier and reduce water loss while at the same time penetrating deeply to hydrate skin at a cellular level.
Creamy, silky, richly emollient So Sensitive! therapeutic lotion instantly absorbs to relieve itchiness and ease discomfort. Slather it on elbows, knees, feet, hands—anywhere your skin feels rough or distressed. Free of parabens, petroleum, GMOs, soy and gluten. Vegan.